Let me start off this post by saying I hate pants. Hate, hate, hate. There's nothing more outfit stunting than a boring pair of pants. However, these pants are far from that! Despite my hatred for pants, I decided to accept working with Aritzia for a game of "blogger tag"--where 1 blogger receives a different colour of the same pair of pants to style, and "tags" another blogger friend of theirs to wear a different colour! And I'm glad I did, because for once, these pants are changing my mind about the boyish style.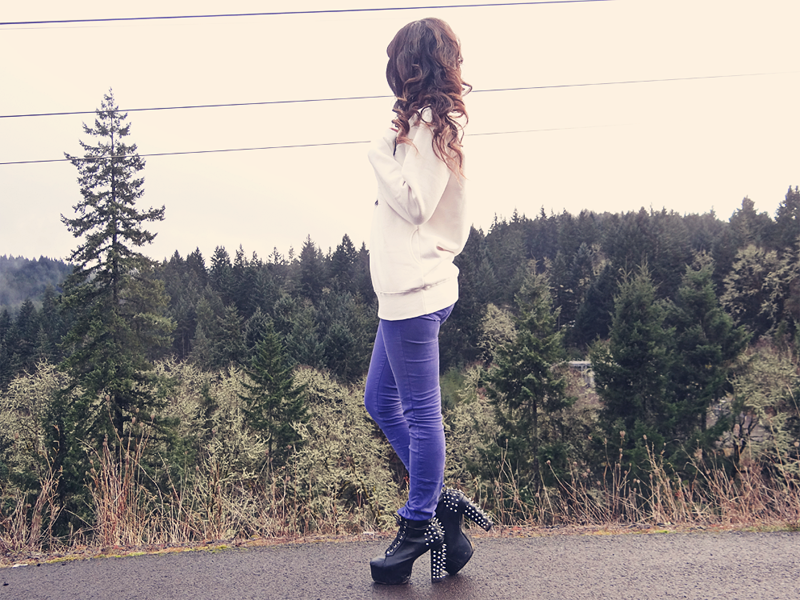 As you can tell, I have really short legs and an extremely long torso XD lol
I actually have a strange story about this sweater! When I was in grade school in the early 90's, the brand "Self Esteem" that sold clothing through JCPenny's stocked a white shirt with nearly (if not the exact same) cat face that's on this sweater! I lost the shirt years ago and was always bummed...until the whole cat sweater fad started, and I found this, and rekindled my love with it, because I am apparently forever like a five year old.
I think these pants are a bit too tight on me, haha! They're pretty warm, too!
RUNDOWN
xoxo, ashlei
PS: As you'll notice, these photos are way bigger than normal. My blog used to be glitched a lot smaller, but I figured out a way around the problem, so no more tiny pictures, yaaay! Now I just need to finish saving for a fancier camera, and the photos will actually look great this large, haha!