First off, before I get to the giveaway, I'd like to start off with this product review! (If you'd like to skip this part, just scroll down past the two images for all the giveaway info!)
The product is called "Serious Serum," and as it states on the package, it's meant to eliminate ingrown hairs from happening. It also professes to be useful for the following: Facial exfolliant, for use on men and women for post shaving irritation, and to treat keratosis pilaris.
In all honesty, I found the product actually works BETTER than the packaging states. Usually I think cremes & serums like this are a big fat pile of bullshit, but this was not. (For me, anyway--we all have different skin!) It only claimed to prevent ingrown hairs from coming in, but it's actually healing a few ingrown hairs I already had, which was a pleasant surprise because I wasn't expecting it to do that! (And coming from someone like me with really pale skin, who scars something awful, it's nice to have something that actually WORKS and nicely heals the ingrown hairs rather than letting them scar!)
I'm a bit unhealthy and all my red marks tend to heal very slowly, so not surprisingly, it actually worked much better on my boyfriend than on me! He had some ingrown hairs on his beard that he's had for months, and they're totally clearing up when nothing previously was working for him.
It comes in a handy little squit bottle that's about 3-4 inches long, and there's quite a bit of product in the tube, so even with both me and my boyfriend using it everyday for the past week or two, we haven't even made a dent in the amount that's left. (I think it'd be a really cute stocking stuffer this Holiday season too, considering its size!!)
Overall, I would give this product a 5/5!
Which is why I'm having a giveaway with this!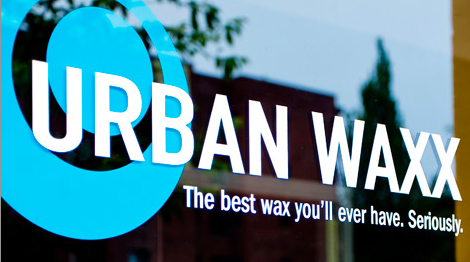 The awesome folks at Urban Waxx are letting me hold a giveaway for their awesome Serious Serum!
GRAND PRIZE: One bottle of your own Serious Serum! (Same as pictured above!)
1. You must click "like" on Urban Waxx's Facebook page, here.
2. You must follow this blog via Google Friend Connect along the right side of the blog, follow on Bloglovin', and click "like" on the Facebook page for this blog. (If you've already done this before, no need to do it again--that step is complete!)
3. You must leave a comment on this post with your e-mail address so that if you are the winner, you can be contacted!
Contest will run until Tuesday, December 18th, and the winner will be chosen at random.
And that's it, you're done!!
I wish all you lovelies luck!!