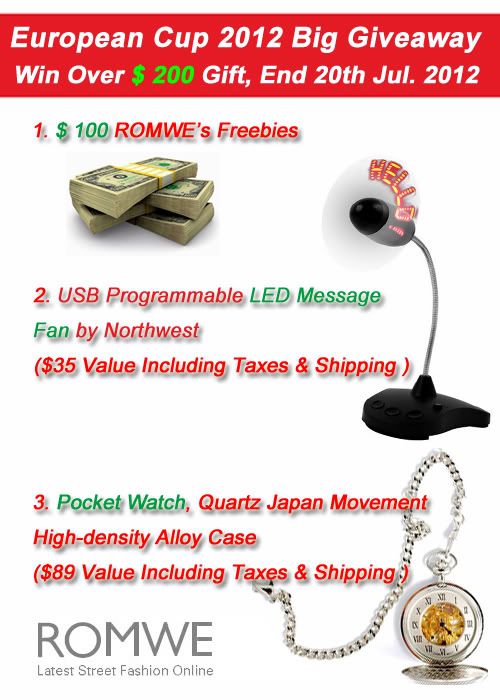 Yet again, another AWESOME Romwe giveaway for all you ladies and gents! (Isn't Romwe so generous with us?!)
PRIZE: As listed above, ONE lucky winner will receive $100 in freebies of your choice from Romwe's online shop, the USB programmable LED Message Fan, and a Quartz pocket watch!!
RULES
1.
You must register with
Romwe
.
2.
You must follow this blog via Google Friend Connect along the right side of the blog, follow on
Bloglovin'
, and click "like" on the
Facebook page
for this blog.
(If you've already done this before, no need to do it again--that step is complete!)
3.
Along with the link you provide where you shared about this contest, please also leave the e-mail address you signed up at
Romwe
with so if you win, you can be contacted!!
And that's it! A few simple steps, and you'll have a chance at winning some lovely items!!
Contest ends July 20th, 2012 @ 11:59pm. Winners will be chosen randomly.
xoxo Good luck, lovelies!! xoxo