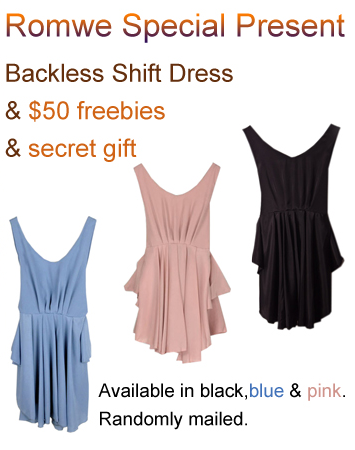 What a day for giveaways, am I right?! My last
Romwe
giveaway just ended, but here is another one!!
GRAND PRIZE: One of the above pictured dresses (Colour chosen at random) + secret gift + $50 freebies to spend how you choose!!
RULES
1.
You must register with
Romwe
. You must also share about this contest and link back to it, somewhere online, (Facebook, Twitter, Pinterest, etc.) and provide me with the link in a comment in this post.
2.
You must follow this blog via Google Friend Connect along the right side of the blog, follow on
Bloglovin'
, and click "like" on my
Facebook page
for this blog.
3.
Along with the link you provide where you shared about this contest, please also leave the e-mail address you signed up at
Romwe
with so if you win, you can be contacted!!
And that's it! A few simple steps, and you'll have a chance at winning some lovely items!!
Contest ends on June 5th @ 11:59pm
xoxo Good luck, lovelies!! xoxo